An Ultimate Guide to Quora Marketing and Website Promotion
Do you know that Quora marketing is one of the best options to promote a website? Fortunately, you have several options to consider when promoting your website. In this article you will learn how Quora Marketing is helpful in promoting your website. Currently, Quora is one of the best and preferred content marketing platform for
Do you know that Quora marketing is one of the best options to promote a website?
Fortunately, you have several options to consider when promoting your website. In this article you will learn how Quora Marketing is helpful in promoting your website.
Currently, Quora is one of the best and preferred content marketing platform for new age marketers and businesses. People always think that this is just a question and answer site, but you will be amazed to see its potential in digital marketing tools.
What does Quora mean?
Quora is a knowledge sharing platform for all, where you can get your questions and answers directly from the users. The answers given on Quora Forum are interesting and informative.
In addition, there are several features introduced in Quora to assess the authority of contributors. Which are based on the number of views they got on their answers, which shows the popularity, relevance and usefulness of the answers given by them.
Features of Quora Marketing
All the three things mentioned above are very important activities of marketing. Moreover, Quora is used by the general public and hence, it is the preferred destination of modern marketers around the world.
Here are some of the features of Quora Marketing which I am mentioning below:
1. Following Topics
This feature helps you to follow the desired themes of your choice. By signing in to your Quora account, you get a list of those topics. which you can choose. And you too can follow such topics with only questions.
2. Add Answers
Quora allows you to add answers to share the knowledge of your particular niche with the audience. When you click on the question, you will get an answer box that allows you to answer the question you clicked on which provides relevant content to the community.
3. Answer Request
In Quora you can request your experts to answer any question. You can simply go to the question and click on request. After that, you will get a list of people who have written on that topic. Select the person from whom you want the reply and send the request to him/her.
4. Quora Inbox
Quora Inbox provides you with a list of messages from people who follow you on Quora. When a follower wants you to answer a specific question, they'll send you a request in the form of an invite and you'll see it in your inbox.
Why should you use Quora Marketing Strategy?
Quora is a fully fledged content marketing platform based on knowledge oriented content. This feature makes a content marketing platform perfect for knowledge sharing.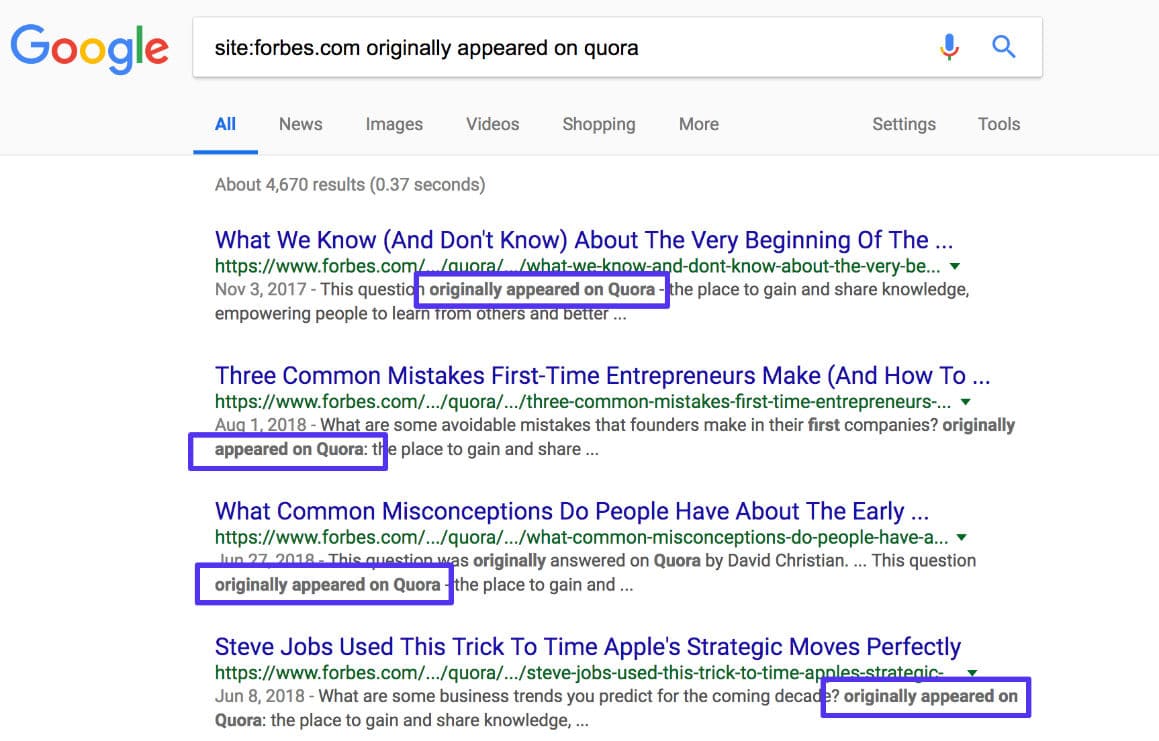 Few points that make you aware of Quora Marketing Strategy for Website Promotion:
1. Massive Content
Quora Only is a content marketing platform with wide search and reach. It provides access to a huge audience and moreover, it is absolutely free for all.
If you are writing good and grateful answer then you will get a lot of followers in Quora. By this, you can bring lots of followers to your website, a good way to build some brand loyalty and make your brand more visible.
If you're writing great answers, your content will be shared with countless readers via the Quora feed and digest.
2. Qualified Lead Generation
When it comes to lead generation, Quora is a long-term investment. It may take some time to build authority and trust on Quora. But once it's done, you benefit from a secure loyal reader base. Then you can depend on Quora to generate leads for you.
3. Networking
Quora does not run on its own, it has editors who short-list the best written answers on various topics and then republish them on other official websites like Forbes, Inc etc. You can definitely take advantage of this opportunity to promote some reputed and websites to make a lot of followers. This will showcase you as an expert and aid you in your networking efforts.
How to Use Quora Marketing?
Quora is classified by a question and answer site similar to Yahoo Answers, which has many more features than Yahoo Answers.
And, we don't have any exact figures about the current number of Quora users, but we can get a fair estimate of its popularity from the fact that the site has about half a million topics and millions of views per capita. Many brands are using Quora marketing as their secret marketing weapon.
How to Answer Quora Questions to Drive Traffic to the Website
Select questions that have enough views and followers.
Select a question that matches one of your blog posts and add a link.
Advice through your answers and link it back to your blog.
Measure Traffic and ROI with Google Analytics.
Advertising on Quora
Ad Formats
In Quora, it allows you to create ads in three different formats. Includes promoting an image ad, text ad and a reply ad.
1. Image Ads
When creating an image ad, you have to follow certain steps or rules. In that you have to upload your company logo and an image which will appear next to the text headline and ad description. Therefore, the minimum resolution of the image should be 600X314 and the recommended dimensions should be 1200X628. Therefore, the company logo should be in a square shape with a recommended size of 500X500. You can use PNG or JPG images.
2. Text Ads
Text ads are the best way to get a high return on your investment, and it also provides the best way to reach and engage with Quora users.
3. Promote an Answer Ad
This, Quora was initially started to share questions and answers. Thus, the "promote an answer" strategy is the best way to bring in customers on Quora. You can promote any of your answers to the target audience.
For more related information, than you can check out mailcot and migomail.